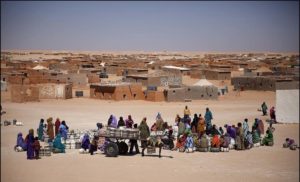 A Spain-based Sahrawi NGO has denounced the inhuman treatment inflicted by the Polisario to women in the Tindouf camps under the passive gaze of the authorities of Algeria, the host country.
In an address before the World Assembly of Women, held in the framework of the World Social Forum (WSF) 2018, in Salvador, capital of the state of Bahia (northeastern Brazil), Othmane Bentaleb, a leader of the Sahrawi Association for the Defense of Human Rights (ASADEDH) drew a grim picture of the situation in the Tindouf camps, particularly for women and girls who are subjected to all kinds of violations and abuses.
Women in Tindouf are reduced to mere "procreation machines" to swell the ranks of a front that only serves its own interests. Besides precariousness, these women are forcibly separated of their children who are sent to foreign countries, such as Cuba, to be indoctrinated, lamented the representative of ASADEDH.
These women are deprived of all the privileges reserved to the minority close to the Polisario leadership, Bentaleb told MAP correspondent at the end of the meeting.
The Sahrawi women, who are subjected to a degrading treatment on a daily basis, are at the mercy of individuals or even organized criminal groups, which exploit their misery for profit, he added.
Young girls are not spared by these mafia networks that exploit their precariousness to move the international public opinion and collect humanitarian aid. However, this aid is diverted by the Polisario and its henchmen.
Besides women and young girls, Sahrawi male youths, whose majority is idle, are also exploited by networks of drug traffickers and smugglers or are simply recruited for terrorist groups operating in the Sahel Strip.