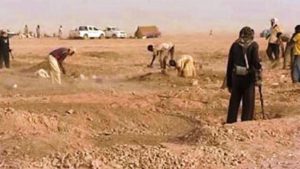 Armed militiamen, close to the Polisario leadership, lately gave a hard time to some inhabitants of the Tindouf camps who ventured into the search of precious metals in the Lahmada desert.
Some idle Sahrawis have recently started searching for gold, using precious metal detectors, in the desert, particularly in the locality of Mijik, one of the buffer zones of the Moroccan Sahara, located not far from the Mauritanian town of Zouerate where this sometimes very lucrative activity is widely practiced.
These gold seekers are now hunted, abused and robbed of their booty and their metal detectors by the Polisario militia. They are then chased manu-militari from the areas of prospection, reports this Friday the Moroccan daily Al Ahdath Al Maghribia.
The victims of the abuses found no way to defend themselves other than using social networks to denounce, in voice messages, the mistreatment inflicted on them by the Polisario militia.
Some say they have been tortured and beaten, others claim they were fired at by their attackers who regularly comb the area, aboard pick-up trucks, to chase the "unwanted intruders".
In the Tindouf camps, the families of the victims protested strongly against the abuses inflicted on their loved ones, but the reaction of the Polisario militia was not long in coming.
The protesting families were in turn violently repressed and stripped of all their property. Tension is thus mounting in the Tindouf camps, where precariousness and unemployment are the daily lot of the inhabitants.
Meanwhile, the Polisario militias, after they clear the area of the unfortunate gold seekers, take over in the illegal search of precious metals.
Last week, the Mauritanian army arrested, near the Northern town of Zouerate, a group of Polisario militiamen who were illegally searching for precious metals. They are still detained by the police of this city.