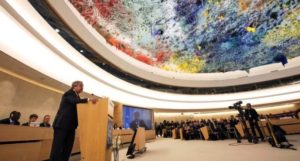 The Polisario and its Algerian sponsors have been disappointed by the new annual report on the Sahara, handed Wednesday to the Security Council members by the UN Secretary General Antonio Guterres.
In his report, Guterres has called to order the separatist front and commanded it to withdraw from the buffer zone of the Moroccan Sahara.
In paragraph 80 of his report, the UN Secretary General, while appreciating Morocco's restraint, calls on the Polisario "to withdraw from the buffer zone as it did in April 2017".
The UN Chief also reiterated his appeal of January 6, 2018, when he had insisted that "regular civilian and commercial traffic should not be obstructed and no action should be taken, which may constitute a change to the status quo of the Buffer Strip".
He further urged Algeria to "make important contributions to the political process" and to step up "its commitment to the negotiation process".
Guterres also reaffirmed that the UN is the only international body entitled to oversee the settlement process that should lead to a lasting, and mutually accepted political solution. He has thus put an end to the whimsical ambitions of Algerian diplomats and their Tindouf protégés to involve the African Union in this process.
Antonio Guterres stated in his report that the leaders of the African Union and the European Union affirmed their support for the Personal Envoy (Horst Köhler) and acknowledged the leadership of the UN in the settlement process of the Sahara conflict.
Moreover, the report does not mention at any time in its 16 pages and 90 paragraphs, the contact that Horst Köhler had with the Commissioner for Peace and Security of the African Union, Algerian Ismail Chergui. It does not no refer either to the judgment of the European Court of Justice, a ruling used by the Polisario and Algeria as an argument in defending their separatist theses.
Like Morocco, the United Nations considers that this development has no relevance to the UN, which remains the exclusive framework for dealing with the Sahara issue.
Finally, Antonio Guterres recommended to the Security Council to extend for 12 months, until 30 April 2019, the mandate of the UN Mission in the Sahara (MINURSO), and called on all parties concerned "to engage effectively in the process of negotiation in accordance with the guidelines established by Security Council resolutions."