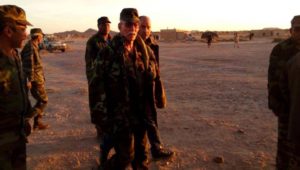 The Polisario Front staged on Sunday "military maneuvers" in Mhiriz, east of the defense wall, and denied the presence of its militias in the buffer zone in Guergarate, before the crossing on Monday of participants in "Africa Eco Race" to Mauritania.
The Polisario, which was unable to deploy its militiamen on the ground, made a "show of force" by organizing military drills in Mhiriz, on the eve of Monday's crossing by competitors in the Monaco-Dakar rally of Morocco's extreme south-west to northern Mauritania, through the border post of Guergarate.
The Tindouf camps media also report the "destruction of the eighth and last stockpile of antipersonnel mines (2 485 mines)" which were concealed by the Polisario in its secret storage sites on the Algerian soil, since the signing in 1991 of the cease-fire agreement under the UN auspices.
While the military parade organized in Mhiriz is viewed by Morocco as an indirect threat to the participants in the international Rally, the Polisario continues to deny any incursion by its militias in Guergarate.
Even their representative in New York, Sidi Omar said on Sunday in his Twitter account, that "allegations relayed by media on the presence of the Polisario in the Guergarate buffer zone are false."
Another Polisario official in Rabouni was quoted by local media as saying that "there is no change on the ground in Guergarate".
But in Rabat, Moroccan Govt spokesman Mustapha El Khalfi, cited on Thursday in his press conference Mhiriz's military maneuvers, affirming that the provocations carried out by the Polisario in the east of the Moroccan defense system concern the United Nations and the Security Council, which are following the situation closely. "
After failing last year to block the crossing of participants in the Rally, the separatist Front showed this year self-restraint to avoid being condemned again by the Security Council for incursion into the buffer zone under the control of MINURSO and for violation of the cease-fire agreement.