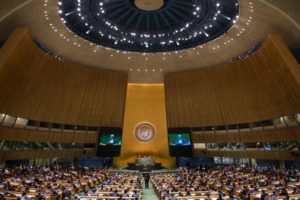 The 4th Committee of the UN General Assembly adopted Wednesday, without a vote, a resolution reiterating its support for the political process conducted under the auspices of the United Nations for the settlement of the Moroccan Sahara issue.
The Committee also called on the States of the region to cooperate fully with the UN Secretary-General and his Personal Envoy, and with each other, to achieve a "mutually acceptable political solution".
In other words, the 4th Committee has supported in its resolution the resolutions adopted since 2007 by the Security Council in the perspective of a "just, sustainable and mutually acceptable" political settlement of the Sahara conflict.
As a reminder, the resolutions adopted by the Security Council since 2007 have recognized the preeminence of the Moroccan autonomy initiative for the Sahara. The United Nations executive body has repeatedly described it as a "serious and credible" initiative for the final settlement of the regional territorial dispute between Morocco, on the one hand, and Algeria and the separatist Polisario front, on the other.
The Fourth Committee also welcomed the commitment of the parties (Morocco, Algeria, Mauritania and the Polisario Front) to continue to show political will and to work in an atmosphere conducive to dialogue in order to start, in good faith and without preconditions, a more intensive negotiation phase.
At the same time, it took note of the efforts made and developments occurred since 2007, ensuring thus the implementation of Security Council resolutions.
It should be noted that in his address Tuesday (Oct.16) before the Fourth Committee, Morocco's Permanent Representative to the UN, Omar Hilale, asked that the UN Decolonization Commission withdraws from its agenda the Sahara issue, since the Security Council has been dealing with the issue since 1988.
The Moroccan diplomat made it clear that "Maintaining the Moroccan Sahara issue on the agenda of the 4th Committee is in flagrant violation of the UN Charter and the mandate of the security Council," insisting on the need for the Committee to divest itself of this issue.