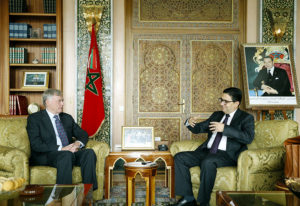 A Moroccan delegation, led by Foreign Minister Nasser Bourita, is expected Tuesday (March 6) in Lisbon, Portugal, for "bilateral talks" with the UN Secretary General's personal envoy for the Sahara, Horst Köhler.
According to a statement of the Moroccan Foreign Ministry, the Moroccan delegation also includes Omar Hilale, Morocco's Permanent Representative to the United Nations, Sidi Hamdi Ould Errachid, President of Laayoune Sakia El Hamra region, and Ynja Khattat, President of the Dakhla-wadi-Eddahab region.
This meeting, to be held at the "personal invitation" of the UN Secretary General's personal envoy, aims to "reach a final political solution to the regional dispute around the Sahara," the statement said, adding that the Moroccan delegation will be "guided" during this consultation, "by the fundamentals of the national position", namely, the rejection of any solution other than autonomy for the Sahara.
An extensive desert area of ​​266,000 km², Western Sahara is a former Spanish colony, retrieved by Morocco in 1975.
Rabat, which considers the territory an integral part of Morocco, proposes autonomy under its sovereignty as a "compromise". But the Algeria-backed Polisario Front calls for a self-determination referendum.
Horst Köhler, a former President of Germany, was appointed to the position in August 2017, to help the conflicting parties find a political solution to this regional conflict. He made his first tour of the region last October and has been trying since then to reactivate talks on this decades-old territorial dispute.
Last January 23, Köhler invited the Moroccan, Algerian, and Mauritanian Foreign Ministers as well as a Polisario representative for talks. He has already received in Berlin the delegations of Polisario, Mauritania and Algeria.
The bilateral meeting between Köhler and the Moroccan delegation will take place in Lisbon and not in Berlin.