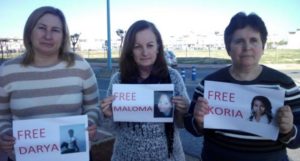 The Spanish adoptive families of three young Sahrawi women, who had been kidnapped and are now forcibly detained in the Tindouf camps, filed a complaint against Algeria and the Polisario with the United Nations High Commissioner for Human Rights in Geneva.
The three young Sahrawis, Darya Embarek Selma, Najiba Mohamed Belkacem and Koria Badbad Hafed, have been sequestrated for years in Tindouf, in southwestern Algeria, by their biological families at the orders of the Polisario. At the end of their family visits to the camps, they never returned to Spain, their country of residence.
In a statement published Wednesday by Spanish newspaper "El Diario", the Spanish adoptive families say they want to denounce, through their move, "the failure of the Algerian government and the Polisario to fulfil their duty to protect, safeguard and guarantee the rights" of these young Sahrawi women.
After they exhausted all dialogue means and after they waited too long for the release of their adoptive daughters, the families said they decided to lodge a complaint with the UN High Commissioner for Human Rights.
In their complaint, they explain that their daughters have been "forcibly detained by their biological parents in the Tindouf camps, for periods ranging between 3 and 6 years, and that they are thus deprived of their freedom and forced to live a life which, they did not choose." The young Sahrawis had been adopted and spent in Spain more than half their lives.
The plaintiffs also request that the UN Working Group on Arbitrary Detention "intervene to investigate thoroughly the complicity and connivance between the Polisario and the Algerian government in these human rights violations" the three young Sahrawis are subjected to.
More than one hundred Sahrawi girls, some of whom having dual Spanish nationality, have been subjected to the same treatment. Their biological parents could do nothing against this out of fear to fall prey to the Polisario's retaliation in case they refuse to obey the instructions.