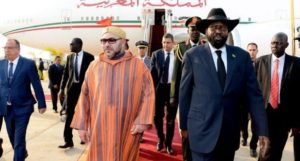 At the end of King Mohammed VI's visit to South Sudan last Wednesday and Thursday, Sudanese President Salva Kiir expressed a clear support to Morocco in the Sahara issue, as he explained that "the issue of the Sahara is different in its genesis and in its legal and political background from that of South Sudan."
It is in these words that the Sudanese leader spoke of the Sahara issue. This issue is at the origin of the rivalry between Morocco and Algeria, which continues to back obstinately the separatist Polisario movement. Salva Kiir also welcomed "the serious and credible efforts made by Morocco" with a view to reaching a political settlement of this conflict.
The King's two-day official visit to South Sudan has thus made it possible to seal a diplomatic and political rapprochement between the two African countries. South Sudan, like the majority of African countries, does not recognize the Sahrawi Arab Democratic Republic (SADR), a purely theoretical entity that is self-proclaimed by the Polisario and that is not recognized by the UN.
The separatist front, which claims the independence of Morocco's Sahara territories, survives only thanks to Algeria's financial, diplomatic and military support.
On the contrary, Morocco has serious diplomatic assets in Africa. Besides, the Sahara conflict, which erupted during the Cold War era in the 1970s, has recently entered a new phase.
Morocco's triumphant reintegration into the African Union at the African summit held in Addis Ababa on January 30-31 will allow the Kingdom to defend better its cause. It will also facilitate the search for a peaceful solution to the Sahara conflict, which paralyzes the construction of the regional Maghreb group because of the longstanding rivalry between Algeria and Morocco on this issue.