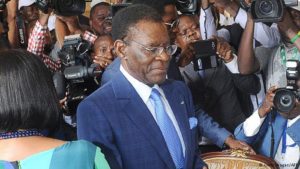 The President of Equatorial Guinea, Teodoro Obiang Nguema Mbasogo, said Thursday in Malabo that the Organization of African Unity (OAU) "committed a serious mistake" by accepting the membership of the so-called Sahrawi republic "SADR."
The President of Equatorial Guinea, who was receiving at his palace in Malabo, the credentials of Ghallam Michane as Morocco's new Extraordinary and Plenipotentiary Ambassador to Equatorial Guinea, said "the Organization of African Unity made a serious mistake when it accepted the Polisario's membership." "The decision was not based on any legal evidence," he said.
President Nguema Mbasogo who stressed that his country blames the authors of this maneuver for the twists and turns of this case, called for repairing this error and for gathering the necessary conditions to allow Morocco to reintegrate the AU. He made it clear however, that Morocco's return is now an accepted fact, since the countries that oppose the move do not exceed a handful.
At the same time, President Obiang Nguema reiterated his country's full support for Morocco's return to the African Union, stressing that this position has been duly notified to the African Commission.
During this audience, the President of Equatorial Guinea asked the new ambassador to convey his cordial greetings and sentiments of great esteem to King Mohammed VI and his wishes of prosperity to the Moroccan people, while reaffirming his country's full and unconditional support to the territorial integrity of Morocco.