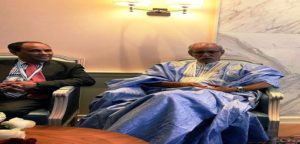 Brahim Ghali who took over the late Mohamed Abdelaziz as head of the so-called Sahrawi republic "RASD", self-proclaimed by the Polisario Front, misses no opportunity to send messages to Heads of State, in an attempt to gain international recognition.
Brahim Ghali, who is prosecuted before Spain's highest criminal court for "genocide and crimes against humanity" he committed in the Tindouf camps, limited his trips abroad out of fear to be arrested.
He no longer dares to venture into Europe and particularly in Spain. Last November, he received an invitation from the European conference of Support and Solidarity with the Sahrawi People (Eucoco) to attend an event in the Catalonian city of Vilanova, near Barcelona. He accepted the invitation but at the last minute, he decided not to attend.
With the exception of trips to some African countries or other States that still recognize the pseudo- SADR and close their eyes on his crimes, Brahim Ghali no longer leaves his headquarters in Rabouni.
The only way he still has to be heard abroad is his statements that are only relayed by the Algerian and pro-Polisario media and the massages that he dares to occasionally address to Heads of State, including those of countries that have never recognized the "SADR" or its so-called president.
The Polisario leader has thus become prisoner of the Tindouf camps, exactly like the thousands of Sahrawis forcibly held in these camps that have been transformed, with the blessing and support of the Algerian regime, into a genuine concentration camp.
Many other leaders of the Polisario Front find themselves in the same situation and cannot travel abroad unless they hold Algerian ID documents and passports.
The diplomatic offensive launched by Morocco at the level of the UN, the European Union or the African Union has made it more and more difficult for the Polisario torturers, whose hands are stained by the blood of hundreds of their Sahrawi victims, to travel unbothered.