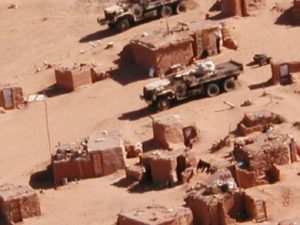 Human rights violations and crimes against humanity, committed for 41 years by the Polisario against the Sahrawi populations sequestered in the Tindouf camps, in Algeria, remain unpunished, affirms Peruvian pundit in international relations, Christian Ramirez Espinoza, calling on the international community to react to these humanitarian tragedies.
In an article published in the Peruvian weekly "Justo Medio" under the title "Polisario crimes: no to impunity", Ramirez Espinoza recalls that during the past four decades, "the Polisario has excelled in the practices of intimidation and violation of the fundamental rights of the populations detained against their will in the Tindouf camps".
The leader of the separatist Front, Brahim Ghali, continues to flee the Spanish judiciary, which accuses him of "crimes against humanity, torture, extermination and kidnapping", the Peruvian expert and journalist points out, adding that the Tindouf torturer must also respond to accusations of rape, kidnapping and assassination.
The Peruvian expert recalls that under the orders of Brahim Ghali, armed Polisario militias had carried out terrorist operations in the 1980s, attacked Spanish fishing boats and killed their occupants.
The Polisario leader and former so-called defense minister of the pseudo-Sahrawi republic, is also accused of being behind the disappearance and illegal arrest of Spanish nationals of Sahrawi origin, including young women who had been adopted by Spanish families decades ago, the author of the article says.
In his article, Ramirez Espinoza also denounces, the systematic and large-scale diversion by Polisario leaders of the international humanitarian aid destined for the populations of the Tindouf camps. The returns of the diverted goods (sold in the black market in neighboring countries and even in Algeria) helped the Polisario leaders to build up fortunes and fill their bank accounts abroad, particularly in the Canary Islands and Spain.