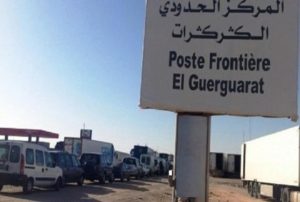 Morocco announced Sunday (Feb.26) the withdrawal of its troops from the buffer zone of Guerguarat, separating the Moroccan Sahara from Mauritania, and avoided thus falling in the trap set by Algeria, that of an armed confrontation with the Polisario.
The withdrawal, started at the orders of King Mohammed VI, intervened at the request expressed in this regard by the UN Secretary General.
On Friday, King Mohammed VI had a phone talk with Guterres to "draw his attention to the serious situation" in the area, a statement issued by the Royal Office said on Saturday.
During the phone talk, the king of Morocco denounced the repeated incursions of the armed elements of the Polisario and called on the UN to take urgent measures to put an end to these incursions.
The following day, the UN chief issued a statement, expressing deep concern about the situation in the area, and calling on the parties concerned "to exercise maximum restraint and take all necessary steps to avoid escalation" near Guerguarat in the Moroccan berm, near Mauritanian border.
"We hope that the Secretary-General's intervention will allow a return to the previous situation in the zone concerned, keep its status intact, allow the flow of normal road traffic and thus safeguard the cease-fire," said the Moroccan Foreign Ministry in its statement.
Encouraged by Algerian authorities in their escalation and provocative actions against Morocco, the Polisario leaders, instead of following the example of Rabat and withdrawing their militia from the buffer zone under the control of the MINURSO, they ordered them to occupy the areas evacuated by the Moroccan army.
In a statement issued on Sunday, the Polisario said that Morocco is "just blowing smoke" and that "at the time of the establishment of the ceasefire, there was neither a road nor commercial traffic between the wall of Moroccan occupation and the Mauritanian border."
Yet, trade did exist between Morocco and Mauritania. The Portuguese Antonio Guterres, who is a connoisseur of the region, insisted that "regular commercial traffic should not be obstructed and that no action should be taken, which may constitute a change to the status quo" in the buffer strip. He was of course alluding to the armed militia of the Polisario which have been blocking Moroccan truckers from conveying their goods to Mauritania, since last October.