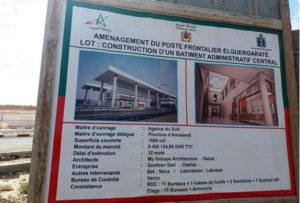 L'Agence du Sud, a public institution in charge of promoting the Moroccan southern provinces, is building a new administrative facility at the Moroccan border post of Guerguarate.
Designed by Rabat-based My Group Architecture, the two-storey building to cost 8.5 million DH will cover a total area of ​​1,500 m2. The construction works to be completed in the course of the current year are carried out by Sonitrav, a Dakhla-based company.
Morocco has undertaken major works to modernize the border post that connects the extreme south-west of Morocco to the North of Mauritania, reports Medias24 portal.
The building comprises seven watchtowers that have been already built around the border post, as well as 26 offices, a body search booth, a VIP counter, an armory and sanitary facilities.
The average number of trucks crossing this border point every day ranges between 100 and 150. The vehicles are mostly loaded with fresh products destined to the Mauritanian market and other Sahel countries.
In another development and according to special envoys of the Spanish news agency EFE dispatched to cover the showdown between the Moroccan Royal Armed Forces and the Polisario militiamen in the Guerguarate buffer strip, Morocco has withdrawn not only the elements of its Gendarmerie from the buffer zone, but also "all the heavy machinery used to asphalt a road to enable access to Guerguarate at the Mauritanian border in good conditions."
Only two thirds of the road section have been asphalted when Morocco stopped the work. The convoys are thus compelled to drive for about 2 km over a rocky track.
The Moroccan government "seems to have opted for calm on the southern border of Western Sahara, although the Polisario Front maintains a unit along the road at only two kilometers from the Guerguarate border crossing post," EFE reports.
According to EFE, there is currently no trace of the Moroccan presence, either military or civilian, in the "buffer zone", although "Moroccan watchtowers equipped with cameras record everything happening" there.
On the other side, a dozen Polisario militiamen, apparently unarmed, set up a checkpoint, said EFE, adding that they are instructed to stand in the way of any vehicle displaying Moroccan symbols such as flags, maps of the Kingdom comprising the Sahara, car tags or license plates bearing the Moroccan star.
The Polisario elements force the drivers to remove these symbols or to veil them before they let them carry on their ride.