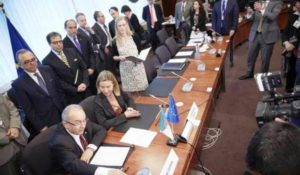 The Moroccan Sahrawi Solidarity Association in Europe (AMSSE) called the European Union diplomacy chief, Federica Mogherini, to pressure Algeria "to engage constructively in the UN process aimed at settling the long-standing Sahara conflict, which hinders the Maghreb construction and endangers security and stability of the Sahel-Sahara region".
The NGO launched its call on the occasion of the EU-Algeria Association Council held on Monday (March 13) in Brussels.
"We deem this meeting an ideal opportunity to raise during your talks with Algerian officials the concerns of our association, which has repeatedly called on the international community to act positively and constructively to find a political and lasting solution to the regional dispute over the Moroccan Sahara," said the Association in a letter addressed to Federica Mogherini.
In its letter, the AMSSE urges the head of the EU diplomacy to make it clear to Algerian officials that it is imperative for their country to facilitate, in the framework of the political dialogue with the EU, "the identification, counting and registration of the Sahrawis living in Tindouf." These are necessary prerequisites to implement the UNHCR mandate relating to the protection of refugees and humanitarian assistance," the association underscores.
The association insists that Algeria is a party to the Sahara conflict and continues to endorse "the actions of the Polisario leaders who work tirelessly to maintain the status quo, holding thus the Tindouf camps populations as hostages, forced to bear a deplorable situation."
"Algeria, which has legal and political legal obligations towards the Tindouf camps populations, must allow international organizations to access the camps to inquire about the humanitarian situation on the ground" adds the letter, recalling that Algeria continues to deny access to the camps to NGOs, international observers and other human rights advocates.