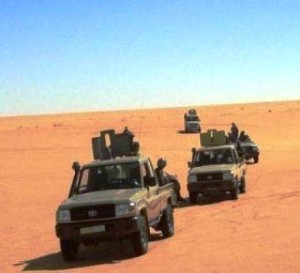 Violent clashes have recently opposed the Mauritanian army to smugglers, including elements of the Polisario, near the Moroccan border post Guerguerat.
Several smugglers, including Polisario element Mbarek Ould Sidi Salem, were reportedly killed in the skirmishes, according to Mauritanian and Sahrawi security sources. Ould Sidi Salem was employed by Mohamed Salem Ould Mhaïdi, aka as "Robio", a known tradesman residing in Rabouni where the Polisario headquarters are located.
The tradesman is used by the Polisario leaders and officers of the Algerian army as an intermediary to sell goods stolen from international humanitarian aids to smugglers who market these goods in sub-Saharan countries, notably in Mali, Mauritania and Niger.
To facilitate the transit of his smugglers, Mohamed Salem Ould Mhaïdi has established very close relations with some Polisario leaders, including Mohamed El Ouali Laguig, the so-called "Minister of liberated territories" and Mustapha Mohamed Ali Sayed Al Bashir, member of the Polisario General Secretariat and commander of the so-called 4th military zone.
Shortly after the sound of firearms shots were heard coming from a locality at few kilometers from the Moroccan border with Mauritania, the units of the Royal Armed Forces (FAR) stationed at the border post of Guerguerat have been put on alert.
The Mauritanian army immediately notified the FAR command post at Guerguerat about its clashes with dangerous smugglers coming from southern Algeria, probably from the Tindouf camps, reported Moroccan daily "Assabah" on December 25.
As the smugglers were driven northwards by the Mauritanian army, the FAR raised the level of alert and proceeded to a large deployment in the region to prevent any infiltration of fugitives within the Moroccan territory.
A number of Sahrawi dissidents and former militiamen who deserted the ranks of the separatist Polisario front have joined the arms and drug trafficking networks active in the Sahara desert. These networks are supplied by Latin American mafias which transit their banned products to Europe and North Africa through the Sahel strip.