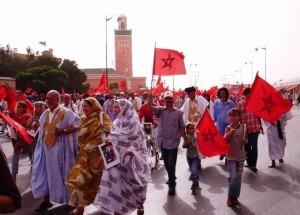 A group of Mauritanian intellectuals, academics and administration executives, who graduated from Moroccan universities and higher institutes, recently set up a new association whose mission is to militate for a final settlement of the Western Sahara conflict.
The purpose of the new association, dubbed "Mauritanians for a Moroccan Sahara," is to defend the autonomy plan proposed by Morocco to the UN in 2007, as a consensual political solution to the territorial dispute between Morocco and Algeria through the Polisario, reports Libération, daily in French of the Moroccan opposition party, the Socialist Union of Popular Forces (USFP).
The founders of the new Mauritanian organization say that they are determined to endeavor to settle once and for all the Sahara conflict and that they will defend and promote the ideal solution, i.e. putting in place an autonomous government in the Saharan provinces under Moroccan sovereignty.
The question is whether the initiators of this new project will have the required freedom and flexibility to carry out their mission.
Actually, Mauritanian leaders proclaim officially their "neutrality" in the Sahara conflict, yet, Nouakchott recognizes the SADR, a ghostly Sahrawi republic created out of nothing by the Polisario front with the support and collusion of Houari Boumediene's Algeria and Muammar Gaddafi's Libya.
Although the UN does not recognize the self-proclaimed SADR that the Algerian regime wants to impose at all costs in the Maghreb, the Nouakchott government seemingly gives in to the blackmail and pressure of the powerful Algerian generals and continues to maintain diplomatic relations with the Polisario. The leaders of the Sahrawi separatist front visit Nouakchott regularly without being inconvenienced.
Let's suggest to the young association, if it wants to have more weight, to ask the Mauritanian President Mohamed Ould Abdel Aziz to join it, since the president is a graduate of the Military Academy of Meknes.