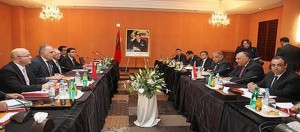 The exchange of visits between the Moroccan and Egyptian Foreign Ministers dispelled the misunderstandings that have temporarily strained relations between the two countries and enabled to set the record straight.
On the occasion of his visit to Morocco on January 16, the Egyptian Foreign Minister, Sameh Shoukry, and his Moroccan counterpart, Salaheddine Mezouar, actually reaffirmed both countries' commitment to further strengthen their bilateral relations and establish a "strong partnership" in order to "advance hand in hand on the right track."
In the joint communiqué released at the end of their talks, the two officials were reassuring as to the strength of ties between Morocco and Egypt.
Over the past few months, relations between the two countries were affected by tactless statements and news aired by some Egyptian media outlets and journalists. The statements were deemed harmful to Morocco and its territorial integrity.
At the end of December, an Egyptian TV anchor claimed that King Mohammed VI had mobilized five aircraft when he flew on a private visit to Turkey. In July, another Egyptian anchor had caused uproar when she said that Moroccan economy was based on "prostitution" and that AIDS was widespread in the kingdom.
To make things worse, a group of Egyptian journalists visited the Tindouf camps at the invitation of the Polisario mercenaries and the Algerian military intelligence services (DRS).
That is why during his brief stay in Morocco, the Egyptian Foreign Minister was keen on reaffirming his country's commitment to the territorial unity of Morocco. He equally renewed support for the autonomy initiative proposed by Morocco to end the Western Sahara conflict.
Sameh Shoukry has likewise reiterated Egypt's support to the Security Council resolutions on the Moroccan autonomy proposal and the Moroccan efforts deemed "serious and credible" to move forward towards the conflict settlement.
Contrary to the claims of the opponents of Morocco's integrity, relations between Cairo and Rabat have gained in strength despite the outbursts of some Egyptian disruptors who had fallen into the temptation of Algerian petrodollars.