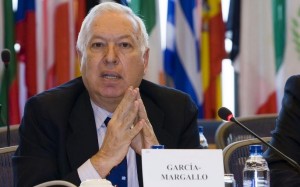 Spain which will officially sit at the Security Council as a non-permanent member, on January 1, 2015, has had a steady standpoint on the thorny issue of the Western Sahara for years, backing a mutually acceptable political solution.
Less than two weeks before Spain's entry to the Security Council, Spanish Foreign Minister, José Manuel García-Margallo, appeared reassuring when he said that his country will defend at the Security Council "a mutually acceptable political solution" and not any solution on the Western Sahara future that would be "imposed by force on Morocco and the Polisario."
José Manuel García-Margallo  who was responding at the question time at the Spanish Lower House to an MP from the Basque Nationalist Party (PNV), known for its support to the Polisario, reiterated Spain's stand which backs a "just, lasting and mutually acceptable solution" and rejects any other imposed solution.
The Foreign Minister said before the Spanish Parliament that the territorial dispute over Western Sahara, "cannot be military nor forcibly imposed" but requires the full approval "of both parties."
The conflict has lasted much too long and "continues to cause sufferings and to hinder Maghreb integration," he said adding that the Rajoy Government will continue to support "the efforts of the UN Secretary General and his personal envoy."
Last week, a Spanish think-tank called on Spanish authorities to focus on economic, political and security interests rather than on emotional reasons. Madrid always speaks of the Polisario and never of Algeria which is party to the Sahara conflict, said Spanish Institute "El Cano" in a report on the Western Sahara issue, opposing Morocco and Algeria through the Polisario.
The think tank urged Madrid to support the autonomy initiative presented by Morocco in 2007, arguing that in the current context, it would be impossible to organize a referendum in the Sahara.
The authors of the report deem that Spain's position is dictated by "legal and emotional reasons rather than by the country's economic, political and security interests."