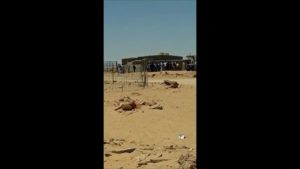 Two opposing drug gangs last week used knives and firearms in a battle, under the passive watch of the Polisario militias and only at few hundred meters of a tent where their leader, Brahim Ghali, was conducting "a prospecting visit" in the camp called "Aousserd".
Eyewitnesses said the battle was a Colombian-like confrontation, given the violent clashes between the rival gangs, whose members were driving 4X4 vehicles at full speed, unaware of terrified camp residents.
A drug baron and members of his clan, all armed with firearms, were chasing the leader of another traffickers' gang that had stolen a cargo of narcotics.
The drug baron was readying to convey the banned substance to Northern Mali, via the Algerian desert, when he noticed that the merchandise had been stolen from his house.
He immediately gathered his accomplices and drove to Agouinit, in the Aousserd camp, to hunt the suspected thieves.
The camp was transformed into a fighting arena where various types of knives and even pistols were used. Gunshots were heard all over the camp, followed by screams of terrified women as it can be heard on this video
Such scenes are unfortunately common in the Tindouf camps, a lawlessness zone, where trafficking in drugs, cigarettes, fuel, and even in human beings is thriving in total impunity.
The trafficking is attracting increasing numbers of disenfranchised youths, who seek by all means to meet their daily needs and those of their families, especially that foreign aid has dropped because of the diversion of this aid by Polisario leaders and notables.