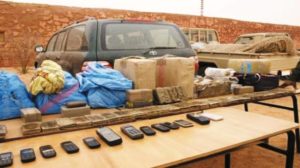 Seven individuals, including two Polisario elements, were arrested in the Moroccan province of Guelmim by the Judicial Police Brigade for their alleged connection with a cross border network of drug and psychotropic products trafficking.
Five Moroccans, one Malian, one Algerian and two individuals from the Tindouf camps were arrested in the operation, a statement by the National security Directorate said, adding that the two individuals from the Tindouf camps were holding ID documents issued by the Polisario leadership.
The arrested individuals are suspected of involvement in international trafficking of narcotic and psychotropic drugs.
The psychotropic substances are made in large quantities in underground laboratories in Algeria.
The foreign nationals involved in this criminal network were arrested inside a tent reserved for transhumant shepherds in a rural area between the communes of Assrir and Timghart, in the vicinity of Guelmim in southern Morocco. The other suspects were arrested in the cities of Tan Tan and Guelmim, as they were about to conduct an international drug trafficking operation, the statement said.
Field investigations resulted in the seizure of an automatic firearm and 47 bullets, apparently brought from the Tindouf camps for criminal purposes.
The Police officers also seized an unauthorized hunting rifle, 205 cartridges, 10 cell phones, three vehicles, one of which carrying a false license plate, in addition to large sums of money in Moroccan Dirham and Algerian Dinar, the statement added.
The defendants were placed in custody. The judicial police are continuing their investigation to determine the ramifications of this international network and its links at home and abroad.
It should be pointed out that the arrest of the traffickers concurs with the recent alert issued by the UN Secretariat General to the UN peace mission in Western Sahara, MINURSO, warning against imminent terrorist acts.
Since then, the MINURSO teams have been on high alert and Morocco has raised the alert level and strengthened the security apparatus around the MINURSO headquarters and its warehouses in the southern zone of the Kingdom and along its borders with Mauritania and Algeria.