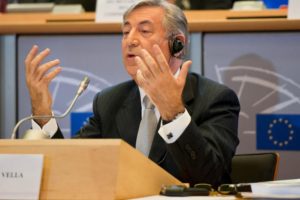 The Polisario Front and its European supporters no longer hide the signs of anxiety and disappointment at the new turn of the battle over protocol agreements on agriculture and fisheries binding Morocco and the European Union.
European Commissioner for Fisheries Karmenu Vella has confirmed that the waters of Western Sahara "are included in the fisheries agreement between the Union and Morocco".
In a written reply to 13 MEPs who again questioned the applicability of the EU-Morocco fisheries partnership agreement in the Sahara, the European Commissioner Karmenu Vella stated plainly, "the waters located off the coast of Western Sahara are included in the fisheries agreement between the Union and Morocco".
The 13 pro-Polisario MEPs highlighted in their plea the consent of the "people of Western Sahara" and the legality of this agreement following the judgment of the Court of Justice of the European Union (CJEU) of 21 December 2016, saying agricultural agreements "are not applicable" in Western Sahara.
Karmenu Vella explained in his reply that the agreement contains provisions aimed at ensuring full respect for international law by taking into account the "interests of all the populations concerned". The provisions include the drafting by Morocco of reports on "the economic and social effects of sectoral support provided by the protocol, including their geographical distribution".
In the case of the Morocco-EU Agricultural Agreement, on May 29, the Council of the European Union adopted the negotiating mandate allowing the amendment of the farm deal, in order to apply preferential tariffs provided for in the agreement to goods from the Moroccan Sahara.
It should be pointed out that recently, some MEPs, lavishly rewarded by the Algerian slot machine, are working around the clock in the European Parliament corridors to sabotage the partnership agreements between the European Union and Morocco.
But, much to the chagrin of the Polisario and its Algerian mentors and despite their maneuvering, both the European Union and Morocco hold fast to their strategic interests and partnership.