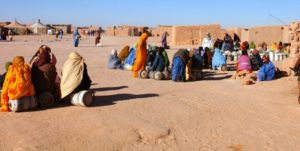 Algerian leaders would do better if they feed the thousands of starving Sahrawis sequestered in the Tindouf camps, instead of squandering millions of petrodollars in anti-Moroccan lobbying campaigns, comments a former detainee of the Polisario who escaped the camps and returned to Morocco few years ago.
As a host country, Algeria is directly responsible for the deterioration of the living conditions of the thousands of Sahrawis that it categorizes as "refugees", said the former detainee, native of Aousserd. He added that these "refugees" on Algerian soil are deprived of water, food, and medicine and are denied their right to free speech and movement.
The noose is tightening around these people that the Algerian regime uses as a means of blackmail in the frantic battle it has been waging against its Moroccan neighbor for decades. Algeria's ultimate aim is to impose its leadership in the region, comments the former inmate.
In view of the inertia of Algerian authorities, a Polisario NGO has sounded the alarm warning that the "security stock of basic foodstuffs", including sugar and rice, intended for vulnerable inhabitants of the Tindouf camps, is significantly declining.
According to the NGO, these populations are now exposed, as in 2015, to high risks of "malnutrition" and "anemia", which "threaten the lives of more than 22,000 women and children". The NGO warned that, in the absence of international emergency assistance, the scarcity of food and even of water would reach alarming scale.
The World Food Program (WFP) reduced the monthly food ration for refugees by nearly 20 per cent during May and intends to reduce the ration further in June, if it does not receive donors' contributions as soon as possible.
The former Sahrawi detainee said that the Tindouf starving people are not expecting anything from the Polisario nor from its Algerian mentors. They know that the front's corrupt leaders, who have diverted international aid for years, do not care about their fate. As to Algerian rulers, their main concern is to harass Morocco, not to improve the living conditions in Tindouf.