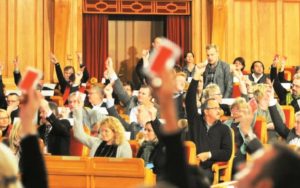 The 39th Congress of the Swedish Social Democrats (SAP-Sveriges Socialdemokratiska Arbetareparti), held in Gothenburg April 8 – 12, unanimously rejected a motion put forward by some members of this party. The motion was urging the Government to recognize the so-called Sahrawi republic "SADR".
The Congress of Social Democrats, in power in Stockholm since the legislative elections of September 2014, endorsed on Sunday (April 9) the decision of the Social Democratic Workers' Party, and rejected by an overwhelming majority (90% of voters) the motion proposing to recognize the chimerical entity, a Moroccan diplomatic source in Sweden said.
Through this decision, the Swedish party confirmed the official position of the government of Stefan Löfven that had already rejected in January 2016 the idea to ​​establish diplomatic relations with the pseudo-SADR.
The Congress of Social Democrats reiterated in its resolution its support for the UN process aimed at settling the Moroccan-Algerian territorial dispute over the Sahara.
For the Swedish Foreign Minister Margot Wallström, a member of the SAP Political Bureau, the recognition of the so-called Sahrawi republic "would not have been in line with international law and would not have served the Sahrawis themselves".
The Congress of Social Democrats, which brought together more than 4,000 delegates, was attended by some thirty foreign political parties, including the Moroccan Socialist Union of Popular Forces (USFP). The ambassador of Morocco in Sweden, Amina Bouayach, also attended the Congress.
The Polisario, which does not miss any occasion to stage its propaganda campaigns and beg for humanitarian aid, sent a three-member delegation to the SAP congress. Yet, all the separatists gleaned from this participation was another setback that shattered their dream to be recognized by Sweden and maybe other Scandinavian countries.