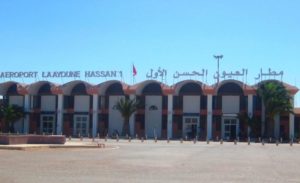 M'Hamed Salem Hamda Birouk, the so-called "ambassador" of the pseudo-Sahrawi Republic "SADR" in Buenos Aires, Argentina, was turned back to the Canary Islands as soon as he arrived Monday afternoon in the Hassan I airport for an alleged family visit to Laayoune, the capital city of the Moroccan Sahara.
Moroccan border police informed the Polisario official that he was persona non grata in Laayoune, where he allegedly wanted to visit some relatives before returning to Argentina.
The Polisario executive who landed in the airport Monday at 04:30 pm was ordered to turn back on the same plane that brought him from Las Palmas, capital of the Canary Islands.
Laayoune port authorities have shown restraint when they did not arrest Hamda Birouk. Actually, his arrival in Western Sahara was perceived as a provocative act since he surely knows that family visits for the inhabitants of the Tindouf camps are organized periodically by the United Nations High Commissioner for refugees (UNHCR.)
Likewise, he surely knows that as long as the territorial dispute between Morocco and the Algeria-backed Polisario is not definitively settled, the residents of the Tindouf camps are not allowed to move freely and at their own will in the southern provinces of the Kingdom, even for humanitarian reasons.
Hamda Birouk is suspected to have come to Laayoune not for a family visit as he claimed, but to get in touch with the separatists settled in the Sahara and to convey them the Polisario leadership's new instructions, on the basis of recent developments in the Guergarat border post area in extreme southwest Morocco.
To the chagrin of the Polisario, Moroccan security and customs authorities have launched as of August 14, a large scale combing operation in the Guergarat region to dismantle the networks of smugglers and traffickers of all kinds roaming in this border region between Morocco and Mauritania.