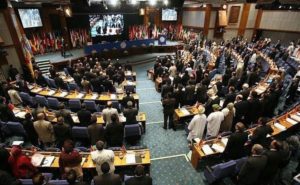 Member states of the Gulf Cooperation Council (GCC), Morocco's strategic allies, have succeeded in dissuading Venezuelan authorities from inviting the Algeria-backed Polisario to attend the 17th summit of the Non-Aligned Movement (NAM), scheduled for September 17 and 18 in the Venezuelan Margarita Island.
After it defended recently the position of the Polisario separatists in the Security Council during the debate over the situation in the buffer zone of Guergarate in the Moroccan Sahara, Venezuela has registered the pseudo Sahrawi republic "SADR" on the guest list of 17th summit of the non-aligned Movement, sources close to the summit organizers said.
But the Gulf Arab countries asked forcefully the summit organizers to remove the "SADR" from the list of the NAM 120 members.
To bar the way to other moves that the government of Caracas might take to support the Polisario, Moroccan diplomacy has mobilized friendly countries and allies, including the six Gulf monarchies, to counter any such moves.
Actually, Rabat fears that Venezuela may try again to include in the 17th NAM summit resolutions or final communiqué phrases of support to the separatist theses and claims of the Polisario.
The Polisario, which is only recognized by the African Union (AU) and by some Latin American countries, whose recognition dates back to the Cold War, relies only on a minority of countries and associations to survive.
The so-called Sahrawi Republic is not recognized by the UN or the European Union or by any other international, continental or regional organization, including the Non-Aligned Movement countries.
Polisario leaders were completely disoriented by the recent developments of the Sahara issue, mainly the expulsion by Morocco of the civilian component of MINURSO, the announcement by Morocco of its desire to reintegrate the African Union and the combing operation conducted by  Moroccan security forces and customs authorities in the Guergarate area since August 14. The operation is meant to clear the area from smuggling, trafficking and other illegal activities.
In this vein, elements of the Moroccan army seized a few days ago 500 kg of Chira and arrested four drug traffickers, member of an international network. One of the arrested individuals from the Tindouf camps is the son of Ibrahim Ida Hamim, the so-called minister of development of "SADR."