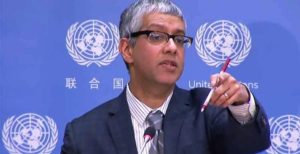 The UN has formally denied the allegations of the Polisario chief, Brahim Ghali, who claimed that Morocco violated the UN-brokered cease-fire, assuring that "there was no suspicious military presence or equipment in the buffer strip."
In a letter to the UN, the leader of the Sahrawi mercenaries had not only claimed that "Moroccan forces have mobilized military units in violation of the said zone," and that the units were "supported by mobile elements of military transport and genius, and by aerial reconnaissance" near Mauritania and beyond the defensive wall, but he also denounced an alleged" systematic escalation" on the part of Morocco.
MINURSO deployed ground and air capabilities to investigate allegations of violations and concluded unequivocally that the Polisario's accusations against Morocco are mere allegations and lies.
"The MINURSO has not observed military presence or equipment. The Mission observed what were assessed as civilian vehicles moving across the berm, assured the UN deputy spokesman, Farhan Haq, adding that MINURSO has conveyed the preliminary results of its investigation to the Polisario Front.
Brahim Ghali, who has been recently placed by the Algerian regime at the head of the Polisario and the so-called Sahrawi republic "SADR," wanted to kill two birds with one stone.
He tried to stir up tension between Rabat and Nouakchott, whose relations are already at their lowest level, and at the same time, overstate the situation at the UN. But this Machiavellian plan went wrong despite the broad support of Algerian media.
The officials of the UN and the MINURSO have been vigilant enough and avoided the new trap set by the Polisario with Algerian support.
Morocco has officially indicated that security services and customs authorities were conducting a cleansing operation against the smugglers and traffickers in the region of Guergarate in the extreme southwestern tip of the Kingdom.
This area, especially the no man's land called "Kandahar," became a hub for all kinds of trafficking and illegal trade activities, from cigarettes and counterfeited liquor to smuggled fuel, cars and stolen cattle, in addition to the trafficking of firearms and drugs.