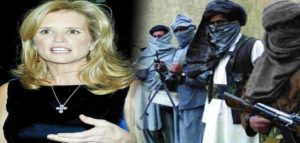 The US daily "New York Post" has unveiled the true face of the so-called human rights activist, Kerry Kennedy, the seventh child of Robert F. Kennedy and the ex-wife of Gov. Cuomo, saying "she behaves like the dictator of a banana republic."
Kerry Kennedy, who "claims to be a great advocate for human rights is a monster who's driving her father's legacy into the ground," wrote The New York Post on August 1 in an article by Maureen Callahan.
The American newspaper reveals precise details of the true nature of Kerry Kennedy, who is notorious as a bounty hunter in the pay of the Algerian regime and a fierce defender of the Polisario separatist Front in the Western Sahara conflict.
"For someone who's a human-rights lawyer, I don't think I've ever met someone who cares so little for the people who work for her," wrote the author of the article, quoting an employee who resigned from the Robert F. Kennedy Center for Justice & Human Rights. "She treats them so badly, belittling and embarrassing them in front of others," the employee said.

These ex-employees say Kennedy herself behaves like the dictator of a banana republic, sending some to perform menial personal tasks rather than respond to desperate e-mails from the world's most dangerous hot spots.
Several ex-employees also tell The Post that Kennedy, who serves as president of the center, has grown increasingly erratic. "She's unhinged," says this same employee. "Bitter. She can't follow up and can be very vague. Sometimes she would get frustrated but couldn't convey where her frustration was coming from."
"Her priorities can change on a whim and her mood," says another, who held a high-ranking position for 3¹/₂ years. "It made me feel like a crazy person. I'd heard stories that Kerry was a loose cannon, but her crazy behavior ramped up in the beginning of 2015."
In the past year, sources say, at least nine employees have quitted the center that Kerry Kennedy operates as a business capital, the daily wrote.
As head of the RFK Center, a nonprofit with the vague stated goal of "raising awareness of the most important — and sometimes overlooked — human-rights challenges," Kennedy presents herself as a standard-bearer and champion of the world's most abused citizens.
However, Kerry Kennedy barely focuses on human rights violations as she is busy amassing as much money as she can from her genuine job, that of lobbying for authoritarian regimes like the Algerian regime, which lavishly pays her for her lobbying for the Polisario mercenaries.
In her dirty work, Kerry Kennedy does not say a word about the serious abuses committed in the Polisario-run Tindouf camps on a daily basis, and at the same time, she seizes any opportunity to criticize the situation of human rights in Western Sahara.