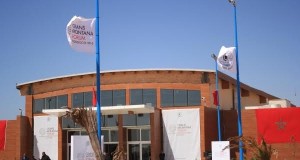 The Crans Montana Forum is holding as of this Friday its session for the second consecutive year in the Moroccan southern city of Dakhla, with the participation of over a thousand participants, including 850 foreign officials, academics and economic operators from 131 countries and delegates of 27 international and regional organizations.
According to organizers, among the participants, there are high-ranking personalities from 41 African, 32 European and 35 Asian countries in addition to delegates of Oceania and 23 countries in the Americas.
After the resounding success of the previous edition held last year also in Dakhla, Crans Montana Forum leaders have chosen as the theme for this new meeting "Africa & South-South Cooperation, toward a better Governance for a sustainable Economic and Social Development."
Debates and presentations will thus focus on the challenges facing the continent and ways to take them up to fulfill African people's aspirations through, inter alia, the mobilization of positive energies and creation of constructive synergies to develop and promote successful and beneficial partnership for all countries in Africa and in other continents.
The theme chosen for this year falls in line with Morocco's irreversible commitment to the African continent and with its South-South cooperation policy. In this vein, King Mohammed VI launched mega socio-economic projects in several sub-Saharan countries on the occasion of his multiple tours in the region.
The Algerian neighbors who were conspicuous by their absence at the first as well as at the second edition of the Crans Montana Forum in Dakhla, did everything to undermine this important meeting but without success.
The presence of representatives of over 130 countries and some thirty international and regional organizations is proof that the maneuvers of the Algerian regime against Morocco's territorial integrity are all doomed to failure.