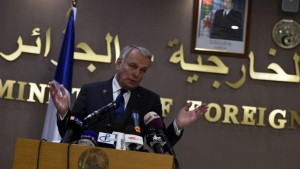 Algerian diplomacy has virtually played its hand in the diplomatic battle it has been waging for decades against the Moroccan neighbor over the Sahara. And Tuesday it suffered another crushing defeat as it attempted to trade France's support to Morocco for luring trade agreements that Algeria promised to sign during the upcoming meeting of the French-Algerian Joint Commission.
The French Foreign Minister, Jean-Marc Ayrault, who was Tuesday visiting Algiers, dodged with skill and diplomacy the trap set by his Algerian counterpart, Ramtane Lamamra.
Lamamar actually tried to make him express France's support to a settlement process leading to a referendum in the Sahara, that is to say an implied support for the separatist thesis of the Polisario Front, whose presence on Algerian soil is becoming increasingly challenged.
But Jean-Marc Ayrault seems to have learnt the lessons of the diplomatic blunder he made during his previous visit to Algeria in December 2013, when he was Prime Minister. He had then inadvertently initialed a joint statement calling for "self-determination" of the Western Sahara population.
The French Foreign Ministry had then responded quickly to catch Ayrault's mistake and issued a clarification reaffirming France's strong support to Morocco and its autonomy plan for the Sahara.
This time, the Foreign Minister of Algeria, which claims its "neutrality" in the Sahara conflict while it actually makes of it a national cause and a priority of its foreign policy, tried, again, to extract from his French counterpart, a "little sentence" expressing support for the Polisario's separatist claims. But it was to no avail!
During the joint press conference held after their meeting, Lamamra said in particular that "France should find absolutely a role in supporting and conducting a process (…) likely to fulfil the natural right of the Sahrawi people to self-determination."
In a telling response, Marc Ayrault said "I am not a historian, but I am not teaching you anything new, this [the Sahara issue] is one of the main disagreements between the foreign policy of Algeria and that of France."  All is said. France fully supports Morocco and its standpoint is unchanged.