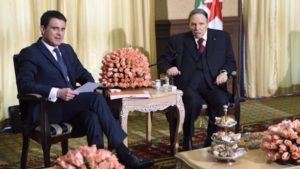 Algerian leaders and diplomats seem to have been exasperated by France which reaffirmed on their own soil its strong support for Morocco's legitimate standpoint in the Sahara conflict. The support was renewed by French Prime Minister, Manuel Valls, during his latest visit to Algeria.
Algerian leaders have seemingly set aside the neutrality they have been claiming, as they went public about their involvement in the Sahara conflict that they had often presented as a conflict opposing Morocco to the leaders of the Sahraoui separatist Polisario movement.
However, fearing that the great powers which support Morocco, notably France and the United States, would strike back, the Algerian rulers and generals do not take stands openly and directly. They prefer to resort to their media and former officials, like the former Minister of Culture and communication Abdelaziz Rahabi, to do the dirty work and slam their Moroccan neighbor.
In a headline-catching but totally inept statement to Algerian daily "El Watan," the former minister found no better argument to defend the Algerian regime's ideology than assert that the French backing for Morocco 'hurts Algeria's diplomatic interests."
It would have been fairer had he spoken of the Algerian leaders' unrelenting attacks against Morocco rather than about these obscure "diplomatic interests."
It must nevertheless be recognized that Rahabi has at least had the merit to be candid and brave enough to tell the truth, unlike the hypocritical and veiled language of the Algerian leaders who seem to have forgotten all the sacrifices made by Moroccans for the liberation and independence of Algeria, an Algeria that is today sparing no effort to balkanize the Moroccan territory.
Algerian rulers who are upset by the French stand in the Sahara conflict also forget that France, as a former colonial power in Morocco and Algeria, has its own arguments and knows better than anyone the history of the region. It is not therefore fortuitous that France sides with Morocco in the territorial dispute opposing it to Algeria and not to the Polisario which was created out of nothing after the last Spanish soldier left the Moroccan Sahara.
Morocco, whose legitimate legal and historical rights are recognized, continues to rally the voices of world powers to the great displeasure of the Algerian rulers.