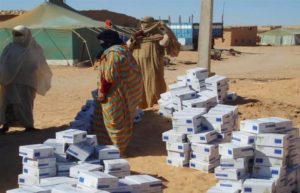 A large part of the humanitarian aid extended to needy populations in the Tindouf camps, following the 2015 floods, was again diverted by the Polisario leaders, reveals the Forum Canario Sahraoui (Focasa,) a Spanish NGO, based in the Canary Islands.
In a communiqué addressed this Monday, April 25, to MAP, Focasa states that large amounts of humanitarian aid were sent to the Tindouf camps following the floods that hit the region in late 2015 but were not all distributed to the flood-affected populations.
"The Polisario distributed only a small part of this assistance and kept the largest part that was sold on the local market," says the NGO, explaining that the aid included foodstuffs, medicines, clothing and building materials.
According to the Spanish NGO, this new episode of misappropriation of humanitarian aid by the Polisario leaders has angered the inhabitants of the Tindouf camps who staged protest demonstrations.
However, the protest movements were violently suppressed by the Polisario armed militia and the Algerian security, says the NGO.
This new diversion brings back to minds the report of the European Anti-Fraud Office (OLAF) which had revealed early 2015 large-scale embezzlement by the Polisario leaders, in complicity with Algerian officials, of the humanitarian aid allocated by the European Union to the civilian populations in Tindouf camps.
To prevent the leakage of such scandals, the Polisario bans access to foreign journalists and NGOs. Only the NGOs and the media openly supporting the separatist thesis of the Sahrawi Front are allowed to enter the camps.
Even the camps residents cannot leave the camps without special passes that are asked for at the numerous checkpoints manned by armed militia of the Polisario under the watchful gaze of the soldiers of the Algerian army.