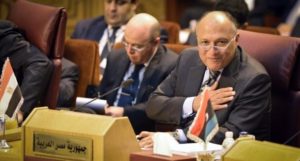 Egypt has officially renewed, during the latest meeting of the UN Security Council, its support to Morocco in the Sahara conflict opposing it to the Algeria-backed separatist Polisario front.
Egyptian Foreign Minister Sameh Shukri on Tuesday told a group of Moroccan journalists visiting Egypt that his country and other members of the Arab Group at the Security Council support Morocco in the Sahara issue.
The head of Egyptian diplomacy hailed the excellent relations existing between Morocco and Egypt and said he is convinced that the coming meeting of the High Joint Committee will give a new momentum to these relations.
He also announced that the Egyptian Government is about to take specific measures to bolster tourism between Egypt and Morocco.
Sameh Shukri revealed that preparations are underway for the upcoming visit of King Mohammed VI in Egypt. The exact date of the royal visit has not yet been decided, he said, adding that President Abdelfettah Al-Sissi will later on pay an official visit to Morocco.
The head of Egyptian diplomacy on the other hand reaffirmed his country's wish to see Morocco reintegrate the African Union. Egypt played, alongside France, Spain and Senegal, a decisive role in the adoption by the UN Security Council of its latest resolution on the Moroccan Sahara. The efforts made by the diplomatic missions of the four countries have helped to rebalance the text of the draft resolution in favor of Morocco. The initial version, drafted by the US Mission to the United Nations was not up to the expectations of the Kingdom.
Egypt's support thus reinforces the backing to Morocco renewed by the six monarchies of the Gulf Cooperation Council (GCC) during the summit which had gathered the leaders of the Gulf countries and King Mohammed VI in Riyadh on April 20.