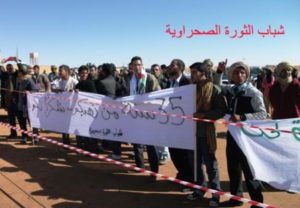 The last confessions made by the Polisario chief Mohamed Abdelaziz shortly before he died on May 31 at a clinic in Rochester, United States, raised the alarm bells for the Moroccan Sahrawis sequestrated in the Tindouf camps in Algeria.
The Tindouf populations have obviously understood the encrypted message from the Polisario leader who confessed to his doctors and his close friends on his deathbed that "guilt" was gnawing him for the senseless tragedies caused by the Sahara conflict that the Algerian regime has created out of nothing.
According to two US and a Spanish media, Mohamed Abdelaziz confessed that he had realized that his own beliefs had become "obsolete" and that the long-simmering conflict in the region was pointless. He also confessed that he felt "guilty" to have been involved in the regional Sahara conflict and that he regretted his alliance with Algeria.
Inspired by these confessions, rising voices in the Tindouf camps are asking the civilian and military leaders in Algiers to refrain from imposing a successor to the late Polisario Chief on the inhabitants of Tindouf and to let them free to choose by themselves their own leaders.
The same leaders, who suffocated all dissenting voices, have ruled the residents of the Tindouf camps for more than 40 years. These residents are now convinced that it is high time the Algerian regime and its army pulled back and let them take control of their future and destiny.
These dissenting voices openly express their refusal to remain confined to the arid desert under Algerian tutelage, while the Polisario continues to reject systematically any settlement initiative, which does not fit Algeria's hegemonic ambitions.
The camps populations are tired of relying on the international community for the most vital means of survival and no longer believe in the promises of the Polisario leaders.
The Tindouf Sahrawis are disappointed, more than ever before, by the failure of their leadership to find a suitable solution to the Western Sahara conflict and consequently put an end to their suffering.
They are also increasingly apprehensive as some Polisario leaders persist in bowing to Algeria's hegemonic ambitions and reject the autonomy plan that Morocco offered almost ten years ago, knowing that this proposal could form the basis of a solution where there will be no winner nor loser.