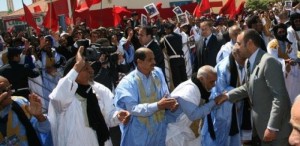 A state of high anxiety and unusual signs of nervousness are reported in Algiers and in the Tindouf camps as the 40th anniversary of the Green March that Morocco is about to celebrate on Friday November 6 is nearing.
In the Tindouf camps, the Polisario leader, Mohamed Abdelaziz, and his inner circles held several meetings behind closed doors with their Algerian mentors, to assess, according to reliable Sahrawi sources, the extent of the impact that the visit King Mohammed VI is to pay to Laayoune, capital of Western Sahara, will have on their independence claims.
The commemoration of the anniversary of the Green March, which marked, in 1975, the end of the Spanish occupation of the southern part of Morocco, is never an ordinary celebration. But this year, the celebration of the 40th anniversary of this landmark event is exceptional and the presence of King Mohammed VI in Laayoune, wherefrom he will address to the nation his traditional speech, lends more glamor to the commemoration.
The concerns and fears of Algerian rulers and Polisario leaders are amplified by Moroccan media reports announcing the inauguration and launch of many large projects, a kind of Marshall Plan worth 140 billion dirhams, meant to speed up the integrated and sustained development of the Sahara provinces.
Yet, what worries most the Polisario and Algerian leaders is that the royal visit in the southern provinces of ​​the Kingdom will mark the beginning of the implementation of the advanced regionalization plan, or in other words, the Sahara autonomy plan that the Polisario and Algeria have tried hard to torpedo, to prevent that the plan is selected as a means to settle the territorial dispute between the two neighbors, Morocco and Algeria.
Under this autonomy plan, described as "serious and credible" particularly by the United States, France, and the permanent members of the Security Council, Rabat will grant to the inhabitants of the southern provinces broad self-management powers under Moroccan sovereignty.
According to our sources in Tindouf, this is what explains the high anxiety of Mohammed Abdelaziz and his cronies and the worries of the generals of the Algerian military intelligence services (DRS) and of all the rulers of Algeria who still nurture their hegemonic ambitions and continue their frantic battle against Morocco's territorial integrity and stability whatever the price.
But never mind, Morocco, which believes in the legitimacy of its cause, pursues its own approach and faces serenely the future.