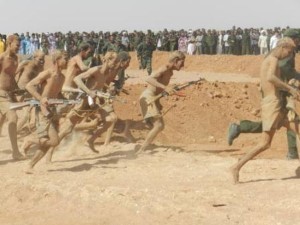 The Spanish Interior Minister Jorge Fernandez Diaz decorated on Friday, November 6 in Las Palmas, representatives and relatives of Spaniards who had been victim of Polisario terrorist crimes in the 70s and 80s of the past century.
At a ceremony in tribute to the Spanish victims of the terrorist attacks by the Polisario, Minister Diaz handed the decorations, some posthumously, to 49 victims or their representatives.
Was the venue of the ceremony a mere coincidence or was it planned on purpose? Anyways, the ceremony took place on the very day Morocco was celebrating the 40th anniversary of the Green March, which, in November 1975, enabled the Kingdom to recover its southern provinces that were under Spanish occupation and was held in Las Palmas, not very far from the city of Lâyoune that hosted the official commemoration of the anniversary.
During the decorations awarding ceremony, the delegate of the Canary Islands Government, Maria Del Carmen, expressed to the victims' relatives "the solidarity and support of the Spanish State."
The advocates of the victims of the Polisario terrorist acts, gathered in the Canary Association of Victims of Terrorism (ACAVITE,) have finally managed to have their grievances heard.
The association, chaired since inception in 2006 by Lucia Jimenez, the daughter of a Spaniard murdered by the Polisario militias in Western Sahara, has long campaigned for a moral reparation and recognition of these victims by the Madrid authorities.
Most of these victims were fishermen who were coldly murdered or severely injured when in the 70s and 80s, their boats, including among others, "Cruz del Mar,"  "Mencey of Abona" and "Junquito" were targeted by Polisario militias' rockets.
But since Morocco recovered Western Sahara and enhanced security there, the area has become one of the safest in the Sahel and Sahara region.
The Polisario armed militias established in the Tindouf camps in southwest Algeria no longer have access to Morocco's southern provinces and to the Atlantic coast since the area had been fortified by a defensive wall.
"Today is a historic day for the hundreds of victims and their families who have suffered for 40 years oblivion and ostracism," said ACAVITE president, Jimenez, recalling that the "Polisario committed during the 70s and 80s, terrorist acts, including assassinations, kidnappings and explosions, which have resulted in the death of loved ones, including our parents and our brothers."