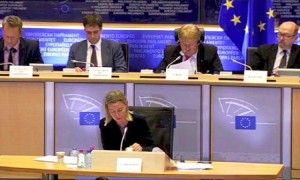 The European Commission has put the Polisario in trouble when it maintained its decision not to increase its aid to the Tindouf camps populations, said the European Commissioner for Humanitarian Aid, Christos Stylianides.
In response to a written question by a Member of the European Parliament, Stylianides deplored "the absence of a census of these populations," recalling that European aid has amounted in total to 213 million since 1993, or more than 40 percent of overall international aid.
This is a new blow to the Polisario leaders who are already facing strong popular discontent because of the large-scale embezzlement of international humanitarian aid.
The European Commission's decision is explained in Brussels by the refusal of Algeria and the Polisario to allow the organization of a census of the camps populations and by the documented massive embezzlement of the humanitarian aid. The diversions benefit the Polisario leaders and their Algerian accomplices to the detriment of the impoverished populations of the camp.
Following the outbreak of the EU aid embezzlement scandal, revealed by the European Anti-Fraud Office (OLAF,) most donors have scaled back their support or totally suspended it.
These diversions have also been denounced by many NGOs and humanitarian actors, including the World Food Program (WFP) and the High Commissioner for Refugees (UNHCR.)
The UNHCR estimates that the Tindouf camps populations do not exceed 90,000 while the Polisario and its mentor Algeria swell the number to 160,000 to get more assistance than what is actually needed.
The European Commission has also insisted on the need to reach a "political, just, lasting and mutually acceptable solution" in the Sahara territorial dispute imposed by Algeria to its Moroccan neighbor since the Cold War era.
"The EU is concerned about the persistence of this regional conflict that has lasted for too long and by its repercussions on the security of the region," said the EU High Representative for Foreign Affairs and Security policy, Federica Mogherini, in response to a written question by another MEP on the role to be played by the EU in the settlement of this conflict.
She nevertheless made it clear that the EU will not take any action likely to hinder the UN-sponsored settlement process and that the EU supports the efforts of the UN Secretary General to reach a lasting solution to this conflict.