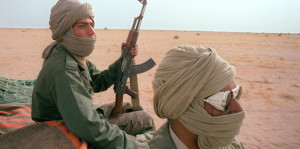 In the Tindouf camps, the disenchanted young Sahrawis have lost all hope in a better future as the Polisario leaders have been promising them all along the past forty years. To have their claims heeded, they took a tougher stand.
The disenfranchised young Sahrawis, who no longer stand to be isolated from the rest of the world in the scorching desert of Algeria, have started targeting their attacks directly at military institutions of the Polisario and the Algerian army.
These young insurgents' anger has been revived after the so-called Polisario military tribunal based in Rabouni condemned, on September 14, nine Sahrawis from the Rguibat and Aït Oussa tribes for an alleged drug trafficking. The nine young men were actually crossing the Algerian desert in an attempt to join Morocco via Mauritania.
In retaliation to the heavy sentences pronounced against the defendants, a group of youths riding all-terrain vehicles, stormed, and this is a première, a military checkpoint placed under the joint command of the Polisario and the Algerian gendarmerie.
The targeted checkpoint is located in the so-called 6th Polisario military zone, near the camp dubbed "Laayoune."
The attackers tied up two sentinels who were guarding the post, took their firearms, including a Kalashnikov, and grabbed many other weapons and ammunition before they fled on board their vehicles.
The Polisario armed militia called to the rescue conducted a sweep operation in the camp but could not get hold of the attackers nor recover the stolen weapons.
The same region experienced a similar incident on September 5, when the unmovable Polisario leader, Mohamed Abdelaziz, who was on an inspection visit to the so-called 6th military zone was attacked by soldiers, principally from the Tekna tribe.
The soldiers were protesting the rampant corruption within the Polisario military structures placed under the command of Mohamed Lamine Bouhali. They accused Bouhali of having accumulated huge wealth through smuggling activities and diversion of humanitarian assistance to the detriment of the starving inhabitants of the camps.