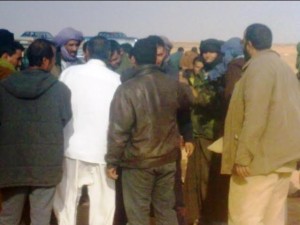 The Tindouf camps witnessed in the evening of May 21 violent clashes between two rival drug gangs in "Haouza" in the camp called "Samara."
Several drug dealers from both sides were injured and a house was burned down during the confrontation between the two rival gangs.
The situation was about to degenerate in a genuine carnage before the Polisario armed militias interposed between the traffickers.
The Camp residents have been terrorized for several hours by the gangs. The members of the two gangs are from different fractions of the Rguibat tribe, according to sources from Tindouf. One of the gangs is led by a baron nicknamed "Mdibbzo" while the other gang works for an individual named Dahi Ould Falli.
According to the sources, the clash erupted after Mdibbzo refused to pay a sum of money due to his rival Dahi Ould Falli "for services rendered."
Falli has reportedly facilitated the delivery of a quantity of cannabis resin that was safely hidden in a house near the "Smara" camp to Mdibbzo's dealers. The drug was destined to be sold in northern Mali.
Such incidents, which are often quickly stifled, are very common in the Tindouf camps and neighboring areas, where many unemployed youths are hired by drug lords who operate under the cover of the Polisario leaders and with the blessing of the Algerian military.
The mules who know the Algerian desert deliver the banned substances from the Tindouf camps to drug traffickers at the eastern border of Mauritania or northern Mali.
Drug trafficking often goes hand in hand with the other lucrative trafficking of weapons, as the terrorist groups operating in the Sahel strip and sub-Saharan Africa pay any price to get arms.