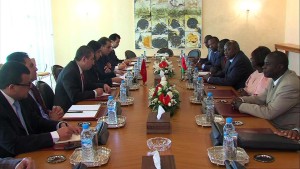 The Speakers of the Parliaments of Guinea Bissau and Côte d'Ivoire reiterated their respective countries' full support to Western Sahara as a Moroccan territory and to the Moroccan autonomy plan as a basis for the final settlement of the territorial dispute opposing the kingdom to Algeria and the Polisario.
While King Mohammed VI was on a friendship and working visit in Guinea Bissau (May 28 to 30,) the Speaker of the African country's National Assembly, Cipriano Cassama, was visiting Morocco where he reaffirmed support to Morocco's national cause.
"I have just reiterated the support of Guinea-Bissau and of its Parliament to the Sahara as a Moroccan territory," he said after a meeting in Rabat with Mbarka Bouaida, Junior Foreign Minister.
"Guinea-Bissau's stand about the Sahara issue is clear and unambiguous," he said, underlining that the two countries have converging views on several issues of common interest.
The same stand was echoed by Speaker of the Ivorian Parliament, Guillaume Soro Kigbafori a couple of days later.
On the occasion of the Moroccan King's visit to Abidjan started on Monday, June 1, the Ivorian Parliament Speaker renewed his country's backing to the territorial integrity of Morocco and highlighted the pertinence of the Moroccan autonomy proposal as a solution to the Sahara artificial conflict. "Our position remains unchanged. We strongly support Morocco in its conflict with the Polisario, "said Guillaume Soro.
"We consider this region (Western Sahara) as an integral part of Moroccan territory," he said, insisting that the settlement of this conflict must necessarily go through direct dialogue between the conflicting parties.
"We support the Manhasset process to acknowledge Morocco's full sovereignty over its Sahara," he said.
During his latest visit to Morocco in January this year, the Ivorian president Alassane Ouattara had expressed his country's solidarity with Morocco in the defense of its territorial integrity and the implementation of the autonomy plan.