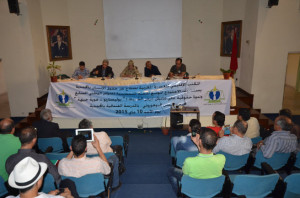 The Moroccan League for the Defense of Human Rights (LMDDH) drew a bleak picture of human rights violations and oppression in the Tindouf camps in southwestern Algeria.
The Tindouf camps refugees' precarious living conditions were aggravated by the massive diversions of international humanitarian assistance.
In a statement issued at the end of a meeting of its section in Mohammedia, the Moroccan League called for the lifting of the blockade imposed on these refugees who are denied their most basic rights, including their right to the freedom of movement and expression and their right to freely decide their destiny.
The meeting discussed the situation of human rights in the Tindouf camps in light of the new Security Council resolution N° 2218 of 28 April 2015 and the resolution of the European Parliament on the Sahara.
Participants in the meeting stressed the need to identify the refugees living in the Tindouf camps as demanded by the UN Security Council.
They also called the European Parliament to suspend European humanitarian aid destined to the Tindouf camps, as the assistance is diverted by Polisario leaders and Algerian officials.
The embezzlement scandal was revealed by many reports, the latest being that of the European Anti-Fraud Office (OLAF) which confirmed, with supporting evidence, a massive and organized embezzlement of the humanitarian aid as soon as it reaches Algerian soil.
The embezzled goods are sold to the camps refugees or in black markets in Algeria and neighboring countries.
The statement said that LMDDH holds Algerian authorities responsible for the human rights abuses inflicted on the residents of the Tindouf camps since Algeria is the host country of these camps.
The Moroccan League also called the Maghreb Coordination of Human Rights Organizations to set up a fact-finding commission to identify the cases of human rights violation in the Tindouf camps and to draft a detailed report that will be submitted to the United Nations to prompt the world body to act accordingly in line with international human rights laws.