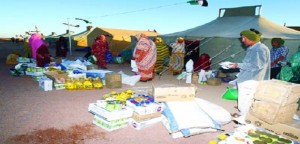 The call launched Sunday by the Polisario bidding for international humanitarian assistance is unlikely to find any echo, as the international community is having increasing doubts about the destination of the assistance following the scandal of the large-scale diversion of the aid destined to the Tindouf camps.
According to the Polisario leaders, the Tindouf camps populations' needs up to next July are estimated at $10 million. But international donors have become more cautious after the European Anti-Fraud Office (OLAF) revealed the existence of a structured system by which Algerian and Polisario leaders divert the assistance.
Some donors, including the European Union and Spain, have reduced their aid considerably. Spanish aid has dropped by $10 million to less than 7.5 million a year because of diversions.
Following OLAF's revelations pointing the finger at Algerian and Polisario leaders, the Security Council reiterated its call to Algeria to authorize the holding of a census of the Sahrawi population living in the Polisario-run Tindouf camps.
The European Parliament, for its part, passed a resolution at the end of April conditioning the granting of the EU aid on the identification of the beneficiaries of this aid to prevent any diversions.
For several years, the embezzlers have been systematically diverting the donations that were supposed to meet the needs of 160,000 refugees. The figure was claimed by Algeria but could never be corroborated as Algeria has repeatedly rejected the requests to hold a census of the camps populations.
The EU has however estimated, on the basis of satellite observations and scientific assessments, that the number of the refugees stands at about 90,000 only.
OLAF noted in its report that the overestimation of the number of refugees made the massive diversions easy.