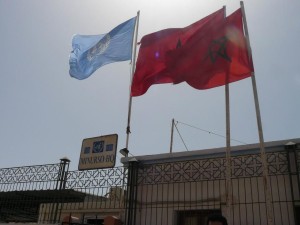 The Polisario armed militias banned, last Thursday, UN peacekeepers, come for a mission to the Tindouf camps, to quit the UN helicopter that flew them there.
"A MINURSO team that left the Hassan I airport in Laayoune aboard a UN helicopter was banned by the Polisario armed elements to quit the helicopter grounded in a landing strip in Tindouf," sources close to the UN mission said.
The sources described as "extremely serious" this incident that occurred Thursday morning (April 30) in the so-called second "military zone" of Lahmada-Tindouf.
The Polisario militias asked the peacekeepers of the MINURSO, the UN mission monitoring the cease-fire in the disputed area of ​​Western Sahara, to show their passports and travel documents.
"This is the first time since the signing of the cease-fire on 15 October 1991 that the MINURSO soldiers are requested to present such documents," deplore the sources.
The armed militias kept the peacekeepers stranded on the landing platform for hours and at the end of the long day, the MINURSO soldiers decided to fly back to Laayoune in southern Morocco.
The mission command was expecting a lack of cooperation on the part of the Polisario leaders following the adoption of resolution 2218 by the Security Council. But, according to a MINURSO official, positioned in Laayoune, not to the extent to deny, by force, the peacekeepers access of to the Tindouf camps, where they go regularly for routine missions.
The UN Security Council call for a census of the refugees living in the Tindouf camps has seemingly irritated the Polisario leaders and their Algerian mentors.
They were also disappointed by the renewal for one year of the MINURSO mandate without any allusion to a possible expansion of this mandate to human rights monitoring in Western Sahara, as wished by Algeria and the Polisario Front.
Actually, well before the meeting of the Security Council at the end of April, Polisario executives had threatened to stop cooperation with MINURSO if the UN does not meet their demands.