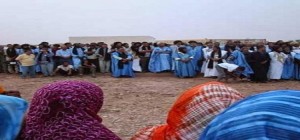 Since the publication of the UN Secretary-General's report, the Polisario leaders' morale has reached its lowest ebb, while great satisfaction can be read on the faces of the majority of the Tindouf camps Sahrawis who see in the new UN report a glimmer of hope for the beginning of the settlement of the Western Sahara issue.
Almost all the Sahrawis who are opposed to the Algeria-aligned policy of Mohamed Abdelaziz have welcomed Ban Ki-Moon's recommendations. For, contrary to the expectations of the Polisario and Algeria, the United Nations Secretary-General has, for the first time, called for the organization of a census of the population in the Tindouf camps.
This is very good news for the Sahrawis, but very bad news for Algerian officials who have consistently claimed that the Sahrawis living in Tindouf number 155,000. The figure is overrated according to the European Anti-Fraud Office (OLAF,) which revealed in January large-scale diversion of international humanitarian aid destined to the Tindouf camps population.
On the basis of assessments made by the European Union's Joint Research Center (JRC), which mainly relied on satellite imagery, OLAF put the number at only 90 000. This great difference between the two figures provided room to large-scale diversions over several years, said the European Office.
Moreover, the UN call for a census comes at a time dissent and protest movements have become a common practice in the Tindouf camps. Khat Achahid, led by former Polisario official, Mahjoub Salek, and the Youth Movement for Change, spearhead these opposition movements. The number of opponents to the Polisario leadership is increasing by the day.
In the camps, more and more youths are openly expressing their anger against Mohamed Abdelaziz and his lieutenants, blamed for their unconditional allegiance to Algeria, whose leaders are exploiting the Sahara issue to serve their own political agenda in the region.