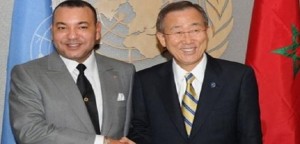 After they were placed in the dock by the European Anti-Fraud Office (OLAF) for the diversion of humanitarian assistance destined to the Tindouf camps, Algerian and Polisario leaders suffered a new setback at the United Nations last week. So, there is no surprise that they are in a black mood.
Actually, in the new report he is to submit shortly to the Security Council, the UN Secretary General, Ban Ki-moon, does not allude at all to the expansion of the MINURSO mandate to Human Rights monitoring in Western Sahara, as expected by Algerian and Polisario leaders. Instead, Ban Ki-moon hit the point harder as he called, for the first time, for the organization of a census of the Tindouf camps populations, as repeatedly claimed by Morocco and other international organizations.
Ban Ki-moon has thus fulfilled the promises made to the King of Morocco, Mohammed VI, during their phone conversation last January when he gave the Moroccan ruler assurances that the new report would be "objective and would reflect the facts."
And much to the disappointment of the Algeria-Polisario tandem, the UN chief recognizes the "positive steps" made by Morocco in human rights promotion.
For analysts, monitoring of human rights should be conducted in Tindouf in the Algerian territory, where access to observers and journalists is militarily controlled and where the diversion of humanitarian aid is common practice, rather than in southern Morocco, where freedom of movement and expression is guaranteed even for pro-Polisario activists and other critics of Morocco who are hostile to its sovereignty and territorial integrity.
Moreover, contrary to the Algerian and Polisario allegations, Ban Ki-moon recognizes that the situation in Western Sahara "remains globally calm" and that public investments in the territory are "considerable", especially in road and port infrastructure.
In view of the latest developments of the issue, analysts deem that the Moroccan autonomy proposal for Western Sahara, described as "serious, credible and feasible," provides the best chance to the conflicting parties to reach a negotiated political settlement of the territorial dispute between Algeria and neighboring Morocco.