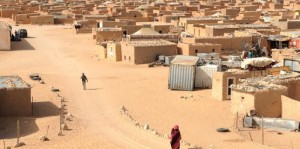 As the meeting of the UN Security Council on the Western Sahara issue is nearing, Algerian officials are getting more and more nervous, while the Algerian media are frantically trying to undermine everything related to the Morocco-proposed autonomy plan and at the same time to eclipse the scandal of the misappropriation of the humanitarian aid destined to the Tindouf camps.
For at least two weeks, Algerian officials have proved that they will go to any lengths in their diplomatic manoeuvers. Discouraged by the position of major international capitals and of the Arab world where no one wants to hear about a Sahrawi republic, the Algerian leaders are looking elsewhere for some kind of backing.
In this vein, they have made moves at the African level and reactivated their American lobbying networks. Algiers has thus ordered to the African Union a report that can by no means be unbiased and dispatched Aminatou Haidar to New York to plead for the Polisario's lost cause with the help of the president of the Robert F. Kennedy Foundation, Kerry Kennedy.
All these moves are clearly meant to make up for the setbacks suffered recently at the European Parliament, where MEPs adopted by an overwhelming majority (390 votes against 155) a report acknowledging the reforms and genuine progress made by Morocco in the field of human rights.
And above all, Algeria is trying to make the international public opinion believe that the situation in the Tindouf camps is normal at a time the opposition of the Sahrawi youths to the corrupt leadership of the Polisario is increasing by the day.
On the ground, the Polisario held late March military maneuvers under the close supervision of Algerian officers, as a blackmail hint to the international community.
Yet, the world major capitals know only too well that Algeria and the Polisario are tarred with the same brush and that unless Algeria shows political will, the Western Sahara conflict is likely to continue for years to come.