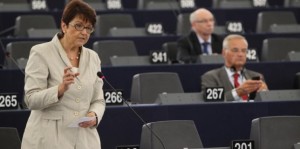 Members of the European Parliament have brought up again the shocking case of the diversion of the humanitarian assistance destined to the Tindouf camps and urged the European Union (EU) to drastically reduce or even suspend this assistance. They also called for revealing the identity of the authors of these diversions.
In a daring action, the MEPs exacted that a census of the Sahrawi population in Tindouf be conducted and that the identity of those responsible for the embezzlements, both on the Algerian and on the Polisario sides, be unveiled.
The MEPs, member of the Budget Committee chaired by German MEP Ingeborg Grassle, asked the European Commission to make public the names of the authors of the massive embezzlement of EU aid to the Tindouf camps populations.
The scandal, shoved in a drawer since 2007, was revealed in late January 2015 by the European Anti-fraud Office (OLAF), in a very damning report that was widely relayed by social networks.
While some MEPs have called for the mere removal of the EU aid, more moderate MEPs proposed that the European Commission reduces the assistance and matches it to the actual number of refugees established by the High Commissioner for Refugees (UNHCR.)
The Tindouf camps population was assessed in 2009 at 90,000 compared to the figure of 160,000 claimed by the Polisario and Algerian authorities, at a time the Morocco's count ranged between 40 and 50,000 Moroccan Sahrawis.
The numbers were deliberately swollen by Algerian authorities that have been encouraging nomads from Algeria, Mauritania and Mali to settle in Tindouf since the camps were set up in 1976.
This is one of the reasons why more than one voice in Europe and at the United Nations are demanding the holding of a UNHCR-sponsored census of these populations to adequately assess their needs and also to facilitate the settlement process of the Western Sahara conflict.
Algeria remains the key player in the settlement of these two major problems, namely the identification of the Tindouf camps refugees and the final settlement of the territorial conflict.
The question today is: when will the EU, the UN and the international community throw all their weight on the Algerian government to end the ordeal of thousands of Moroccan Sahrawis who have been confined in an open prison in the Algerian arid desert for forty years?