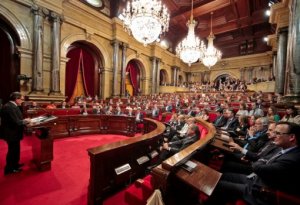 The Parliament of Catalonia (northeast Spain) rejected last week a draft resolution hostile to Morocco's territorial integrity, inflicting thus another blow to the Polisario and its Algerian sponsors.
Members of the Convergence and Union party, the party of the President of the Local Government, Artur Mars, and the Catalan People's Party voted against the draft.
The text was supported only by some members of minority parties, namely the Socialist Party, the Leftist Republican Party and the Green Catalonia Movement.
The Parliament of the autonomous region of Catalonia has repeatedly rejected draft resolutions hostile to the Moroccan identity of Western Sahara. The majority parties in the parliament support the autonomy initiative proposed by Morocco to settle once and for all the territorial dispute fabricated by neighboring Algeria.
Some pro-Polisario Spanish civil associations supported by some leftist and extreme leftist parties try to influence the Catalan public opinion and to hamper a settlement of the Moroccan-Algerian conflict.
The Polisario is a separatist movement created, hosted and funded since 1975 by the Algerian regime which has been using the Western Sahara issue, since the Cold War era, to put pressure on Morocco and impose its leadership in the Maghreb and Sahel region.
Algerian authorities which do not want to see an end to the Western Sahara conflict have never allowed the UN specialized agencies and particularly the High Commissioner for Refugees (UNHCR) to proceed with the registration and identification of the populations sequestered for forty years in the Polisario-controlled Tindouf camps in Algeria.
The Algerian army deployed in this area imposes a total blackout on these camps and denies NGOs and international observers' free access to the populations there to prevent them from discovering the truth about this open-air prison that is run with an iron fist by the Polisario and its torturers.