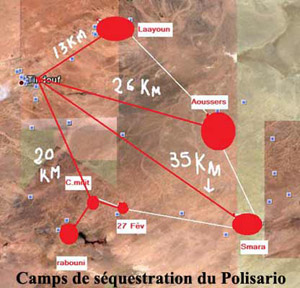 At the time when important Sahrawi tribes were asking the Polisario to release Sahrawis detained in its jails in Tindouf camps, the Polisario militias have made new arrests among the Sahrawis. It concerns Mustapha Salma Ould Sidi Mouloud, inspector general of the Polisario police who was arrested on Tuesday 21st September, in a buffer zone next to Mhiriz in the Western Sahara. He was going to Tindouf camps with one of his brothers and some friends.
Some chioukhs and notables from the Rguibat tribe required in a press release dispatched on Monday by MAP Agency, the immediate liberation of all the arrested persons following the peaceful sit-in observed to protest against the barbarous aggression and the kidnapping last Saturday, of Ahmed Ould Mahmoud Ould Allal, one of the members of the same tribe, by the Poliosario police in Rabouni, not far from Tindouf. They have also expressed their support to Mustapha Salma trying to join his family in Tindouf. After having paid a visit, last August, to his relatives in the Moroccan city of Smara, Mustapha Salma have made a press conference to announce his adherence to the Moroccan autonomy project. He had even declared his intention to return to the camps to defend this Moroccan proposition.
But as expected by most observers, Mustapha Salma was arrested upon his arrival to a front post, by armed men from the Polisario who were circulating in two military vehicles. Salma and his companions were led afterwards to an unknown destination. In their initiatives, the chioukhs and notables from Rguibat tribe have called the UNO and international human rights NGOs to support Mustapha Salma and to make sure that he can meet his family and relatives and to guarantee his protection and his right to express himself freely. They also asked for the HCR intervention and other UN bodies to make easier the return of Sellam tribe members to their homeland, Morocco. With these new arrests, the Polisario leadership is in a bit of a pickle. According to our sources in Tindouf camps, the situation has become explosive and untenable.