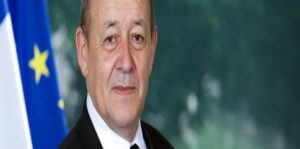 France has not changed its position in the Western Sahara conflict and reiterated on Wednesday (Jan.17), through the voice of its foreign minister, its support for the autonomy plan proposed by Morocco and for the settlement process under the aegis of the UN.
During a meeting with the Personal Envoy of the UN Secretary General for the Sahara, Horst Köhler, in Paris, the head of French diplomacy, Jean-Yves Le Drian, reiterated France's support for "a just, lasting and mutually acceptable solution in Western Sahara, in accordance with the United Nations Security Council resolutions".
He also expressed his country's commitment to "full compliance with the ceasefire agreements".
Jean-Yves Le Drian once again, assured that the autonomy plan proposed by Morocco in 2007 as a solution to this territorial dispute, constituted "a serious and credible basis for this purpose".
The UN mediator started last week a tour in Europe and Africa. In Brussels, he discussed the Sahara issue with Federica Mogherini, the High Representative of the European Union for Foreign Affairs and Security Policy, as well as with Ismail Cherki, President of the Peace and Security Council of the African Union (AU).
Horst Köhler then traveled to Kigali to meet Rwandan President Paul Kagamé, who is to assume the AU's chairmanship at the coming African summit late January.
Köhler concluded his African tour with a meeting in Addis Ababa with Moussa Faki Mahamat, the chairman of the African Union Commission.