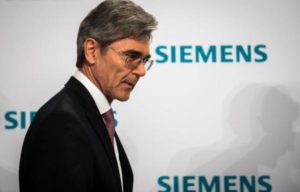 The international Siemens group is resolved to continue investing in the Moroccan southern provinces, ignoring the attempts of the Polisario and its European lobbyists to prompt it stop its activities in the Moroccan Sahara. 
The Polisario and its Algerian mentors who are losing ground on the diplomatic scale at the United Nations, in Africa or in Europe, have recently resorted to blackmail and denunciation of international firms for allegedly exploiting the Western Sahara natural resources.
However, the German group Siemens dealt the Polisario separatists and their supporters a new blow when it affirmed its determination to invest in Morocco's Sahara provinces.
At its latest board of directors, the Siemens Group, specializing in high technology, industry, energy and health, assured that "investments in the Moroccan Sahara were consistent with the international regulations", adding that "the Group's investment policy in the Sahara will be maintained and continued".
The executive director of Siemens, which participates in almost all energy projects initiated in the southern regions of ​​the Kingdom, assured that his group is determined to continue its investment policy in the Moroccan Sahara, ignoring the campaigns staged by some organizations hostile to Morocco and its territorial integrity.
So, through its decision, Siemens will have also dealt a blow to the many media and diplomatic campaigns staged by the Polisario Front in the European Union with the support of the European lobbyists lavishly paid by Algerian petrodollars.
After it lost many diplomatic and human rights battles, the Polisario is now targeting international companies that are operating peacefully and legally in the Sahara or that are about to invest in the region.